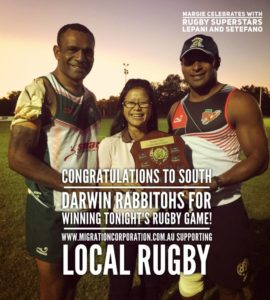 We are proud to have been chosen by our local South Darwin Rugby Club to represent Fijian Rugby stars to represent Australia for their Distinguished Talent Visas!
Darwin Registered Migration Agents Margie Dizon and Cecilia dela Vega support local rugby and have been priviledged to have been instrumental in securing Distinguished Talent Visas for Fijian Rugby stars Setefano Cakaunivalu and Lepani Nabuliwaqa.
Do you know someone with distinguished talent that Australia should keep?
Call us on 8948 1995 and clarify your options in staying lawfully in Australia!